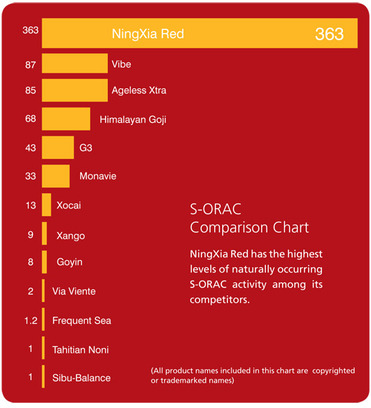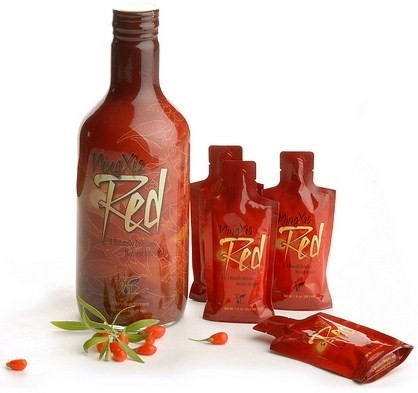 ®

NingXia Red is a naturally delicious, nutrient-infused wolfberry drink. Drink it and discover a refreshing way to energize, fortify, and replenish.

NingXia Red combines the finest whole Ningxia wolfberries, blueberries, raspberries, red grapes and lemon and orange essential oils. And it contains fiber, protein, and a variety of vitamins and minerals.



Drink it and enjoy:

• A powerful antioxidant-rich infusion.
o Ningxia wolfberries offer health, energy, and longevity
benefits used for centuries.
o Nutrient-dense blueberry and pomegranate juices include a
variety of antioxidants.
o Lemon and orange essential oils are rich in the antioxidant
d-limonene that promotes healthy liver function.*

• The highest levels of naturally occurring, age-defying
S-ORAC available.
o S-ORAC helps support immune function, cardiovascular
health, and nourishes the eyes.*

• Energy and stamina without stimulants, such as caffeine and
guarana.

• Great taste with no sugary, nutrient-light juices, such as
apple, white grape, pear, etc.

• Essential nutrients to help support normal cardiovascular
function, normal eye health, normal cell growth, and healthy
liver function.*


All this with only 19 calories per serving.

The ORAC (Oxygen Radical Absorbance Capacity) test, developed by USDA researchers at Tufts University, is one of the most valuable methods for measuring the ability of antioxidants to absorb oxygen radicals. The test showed that the wolfberry has unsurpassed ability to absorb the bad free radicals that attack the body and contribute to abnormal cellular activity and aging. NingXia Red has the highest levels of Superoxide-ORAC activity among its competitors.


---
Be Successful.......Be Young Living

*Statement with claims have not been evaluated by the Food and Drug Administration.
This product is not intended to diagnose, treat, cure, or prevent any disease.